Setting the standards
DYNOS leaves nothing to chance. With over 60 years of experience in the abrasives sector, today we represent the peak of quality, performance, customer focus and sustainability on the market. Our work is supported by our integrated management system (IMS). It regulates all the areas of work and services at DYNOS – quality, environment, energy, occupational health and safety – and establishes the basis for a wide range of certifications: from quality to sustainability. As a result, our customers based all over the world are guaranteed quality that is tried and tested as well as internationally renowned. Made by DYNOS.

Using our IMS, we monitor all the processes at DYNOS throughout the entire supply and value chain. From the raw material to the final delivered industrial product. This ensures optimum transparency. Test documentation and reports record each step of the production process. Seamlessly.

In short: Quality has its own system at DYNOS. And this is highly valued by our industrial and technological customers.

Quality on top
DYNOS abrasive vulcanized fibre surpasses all national and international quality requirements – including the specifications of FEPA (Fédération Européene des Fabricants de Produits Abrasifs). Thanks to our continuous and strict quality control procedures in the DYNOS testing laboratory, we guarantee a consistently high level of product safety. Documented inspection plans provide us with up-to-date, reliable data pertaining to particularly sensitive physical values such as thickness, basis weight, tensile strength, layer strength and adhesive strength.
DYNOS will also provide you with a completely custom quality service:
We perform customer-specific quality control procedures with individually defined parameters.

Depth of production – from a single source
DYNOS works within a self-directed, perfectly coordinated value chain. We implement all of our quality standards throughout the entire chain, with the end result being an all-round "state of the art" product. We completely manufacture the raw material for our vulcanized fibres on our own: rag pulp made of recycled cotton. The next manufacturing step produces unsized special paper; this is the base material for our vulcanized fibre production.

Dynos Fibre
DYNOS is the world's leading specialist for the bioplastic vulcanized fibre. Our easily processable layering material convinces with its high resilience – even when used continuously. DYNOS is synonymous with optimum efficiency and variety. Our delivery specifications are adapted to our customers' individual procedures with the world's most modern maker technology. This allows our customers to choose from a wide range of dimensions: from narrow rolls, punched discs for individual coating up to an industrial-scale width of 1660 mm.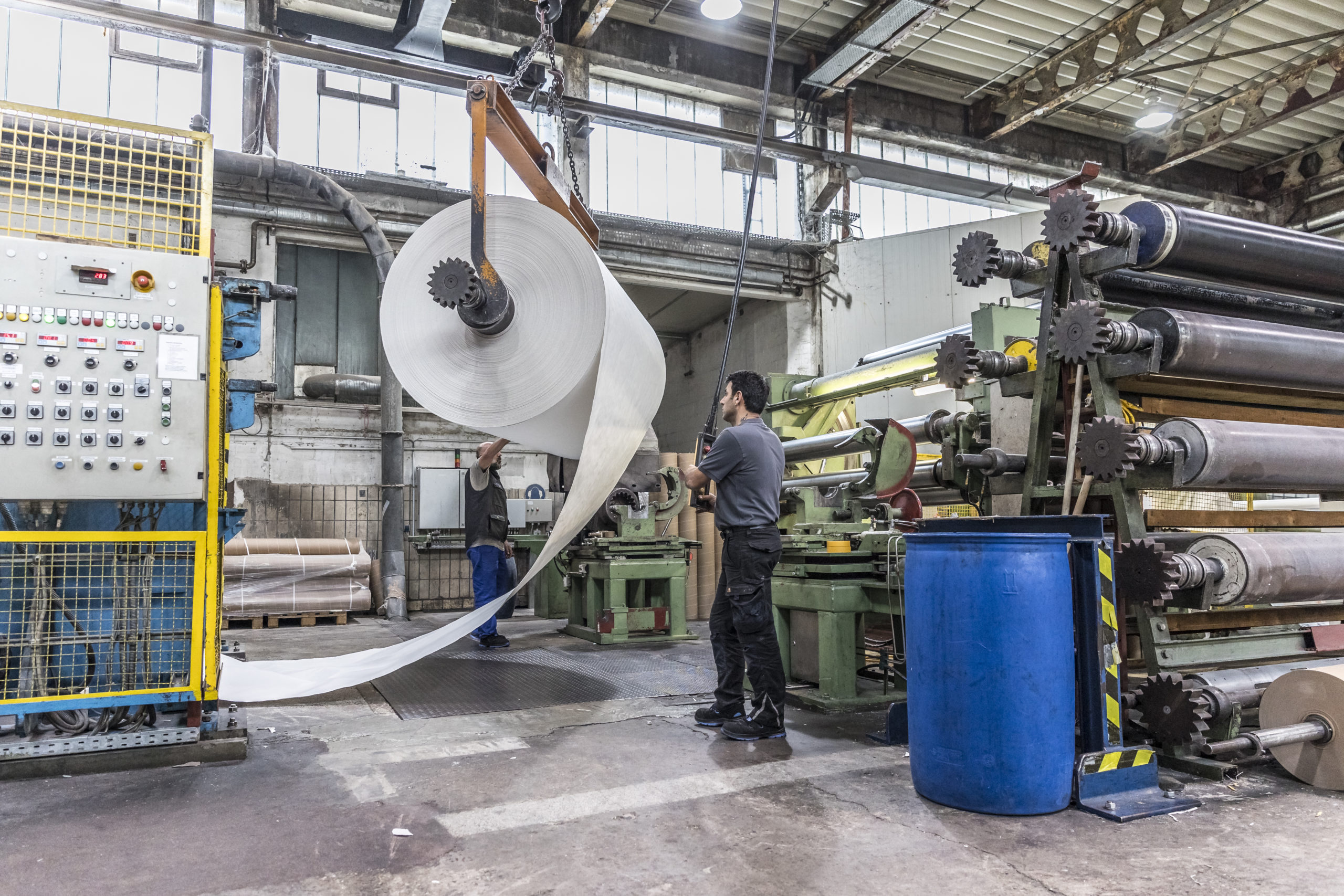 Dynos Paper
With over 200 years of experience as a paper manufacturer, DYNOS is your expert in the field of special technical paper. Whether abrasive base paper, marble paper or special solutions for the restaurant business: our comprehensive product range leaves nothing to be desired. Thanks to our own wide range of paper creations, we are able to fulfill highly specific customer requirements. And all with the DYNOS seal of quality that you have come to expect.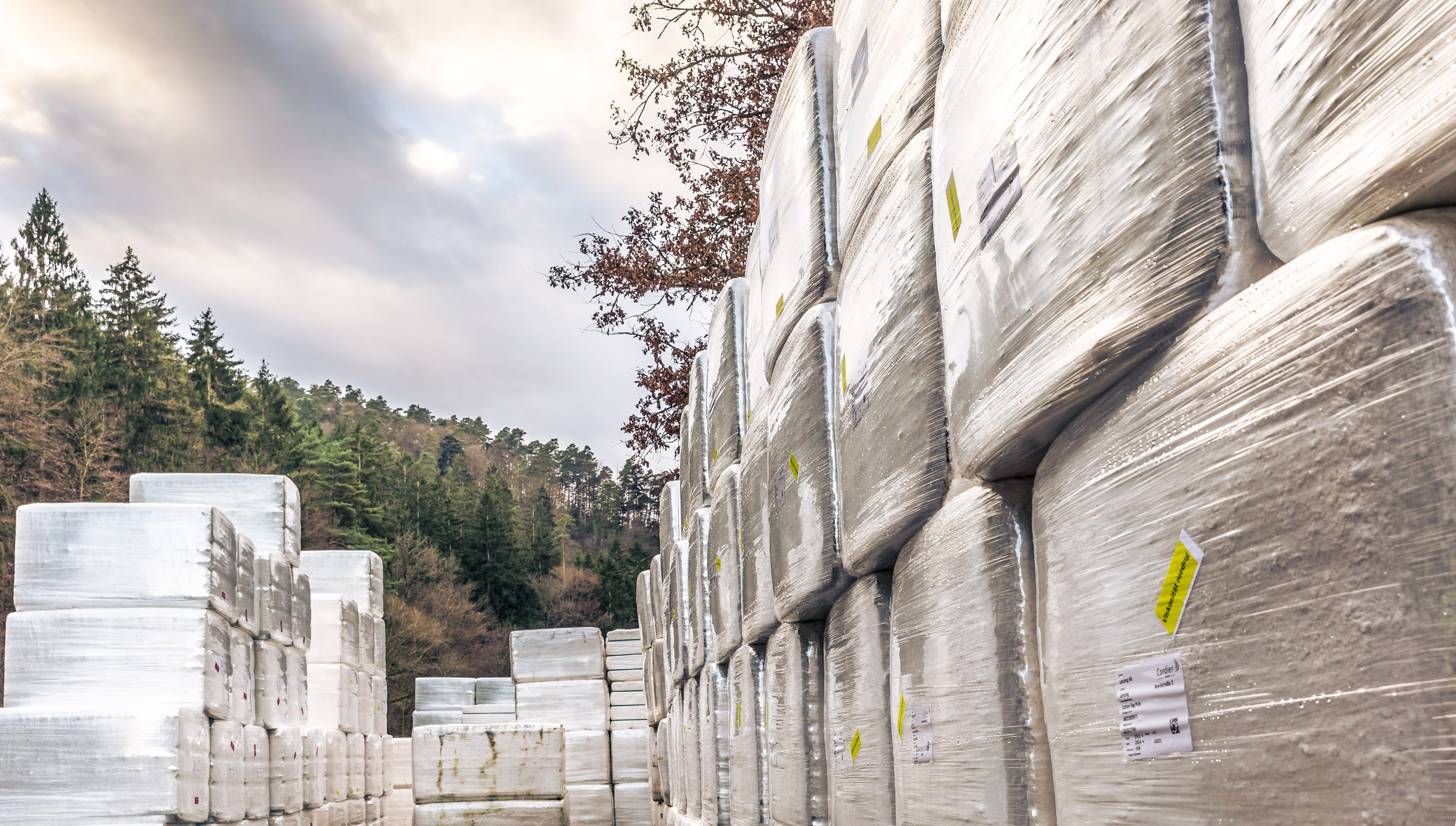 Dynos Pulp
Manufacturing high-quality cotton rag pulp is a highly specialized and niche skill.
And here at DYNOS, we know how to do it. We obtain pulp from old textiles made of cotton and use it to create the best quality paper and yarn. This allows DYNOS to cover the entire supply chain – sustainably, professionally and efficiently. We operate independently of third party supply chains, which enables us to develop our capabilities autonomously. A decisive plus point for all vulcanized fibre customers throughout the globe!

Working together with renowned partners from the circular fashion industry, we have succeeded in developing a market-ready independent fibre product for the recovery of yarn. Today, high-quality textiles can be produced in large quantities in accordance with strict global recycling standards (GRS). This conserves resources in cotton-producing countries and reduces the carbon footprint of the textiles. The future – made by DYNOS!

Know-How, experience & passion
Processes, patents, methods – it is the people that make DYNOS's distinguished product range what it is. We have a team that is capable of seamlessly transforming traditional manufacturing work into industrial production know-how. This is the foundation to the success of our customers, as well as ours as a corporate group. Why not become a part of it: we are always on the lookout for bright minds and hard-working hands to add to our team!
Vacancies
The Dynos milestones
Unique know-how and process mastery, cultivated from many years of experience and vast ingenuity - this is what defines DYNOS. Now discover the milestones that tell the story of how the DYNOS Group became the powerful entity it is today.
Der englische Chemiker Thomas Taylor pigmentiert Papier mit Zinkchlorid –
und erfindet so das Vulkanfiber-Verfahren

Gründung der Sparte "DYNOS Vulkanfiber" bei der Dynamit AG in Troisdorf
Mit zwei Verfahren – Zinkchlorid und Schwefelsäure – wird Vulkanfiber für
technische Einsatzzwecke produziert

Eine komplett neue Anlage auf Basis des Zinkchlorid-Verfahrens geht in Betrieb:
die Nachfrage im Schleifmittelbereich steigt weltweit an.

Kapazitätserweiterung bei DYNOS Vulkanfiber um 20%,
Volllast wird schon ein Jahr später in 2000 erreicht

Der Schweizer Finanzinvestor M2 Capital erwirbt DYNOS und gründet die heutige
DYNOS GmbH

DYNOS GmbH erwirbt Cordier – und integriert somit die Pulp- und Spezialpapier-produktion in die DYNOS Gruppe. Die geschlossene Lieferkette bringt klare Kundenvorteile: alles aus einer Hand dank hoher Fertigungstiefe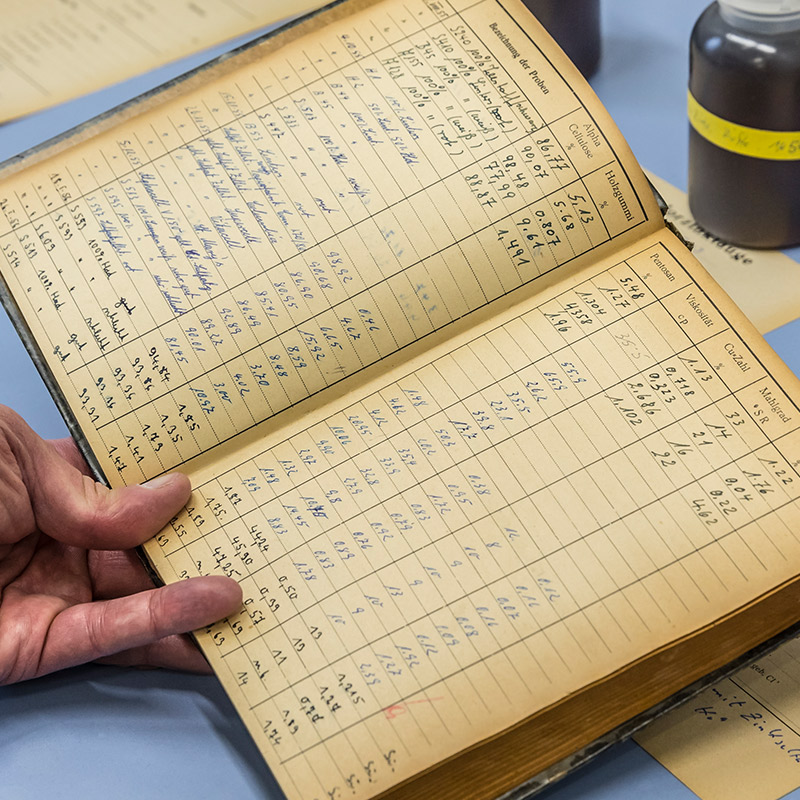 1859 – The English chemist Thomas Taylor parchmentized paper by applying zinc chloride, and in doing so invented the vulcanized fibre process for the production of the world's first bioplastic.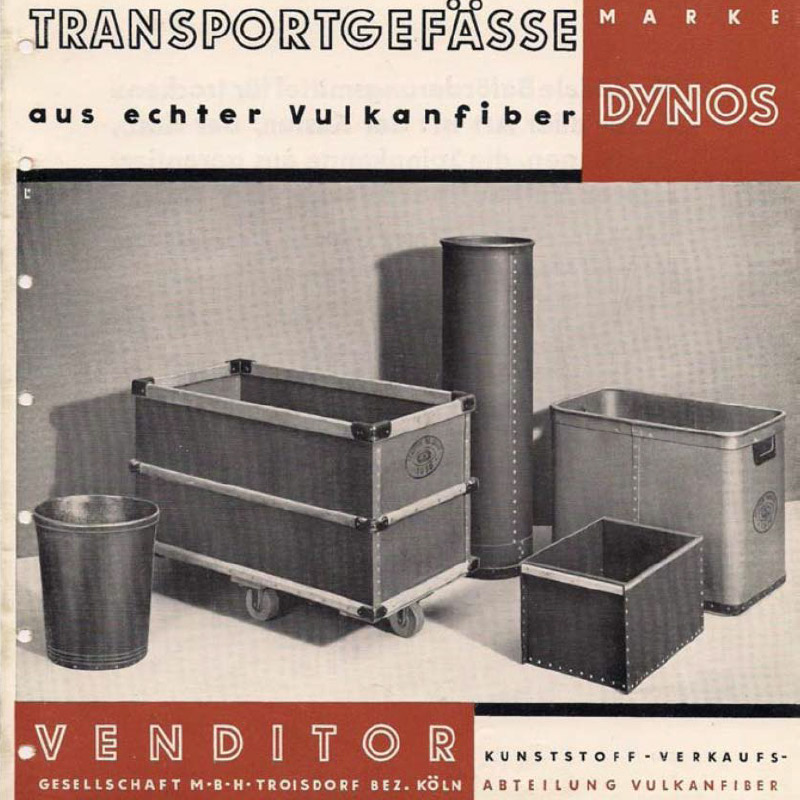 1933 – DYNOS Vulcanized Fibre is founded as a branch of the Dynamit AG in Troisdorf using two different procedures – the zinc chloride and sulphuric acid treatment methods – vulcanized fibre is manufactured for technical applications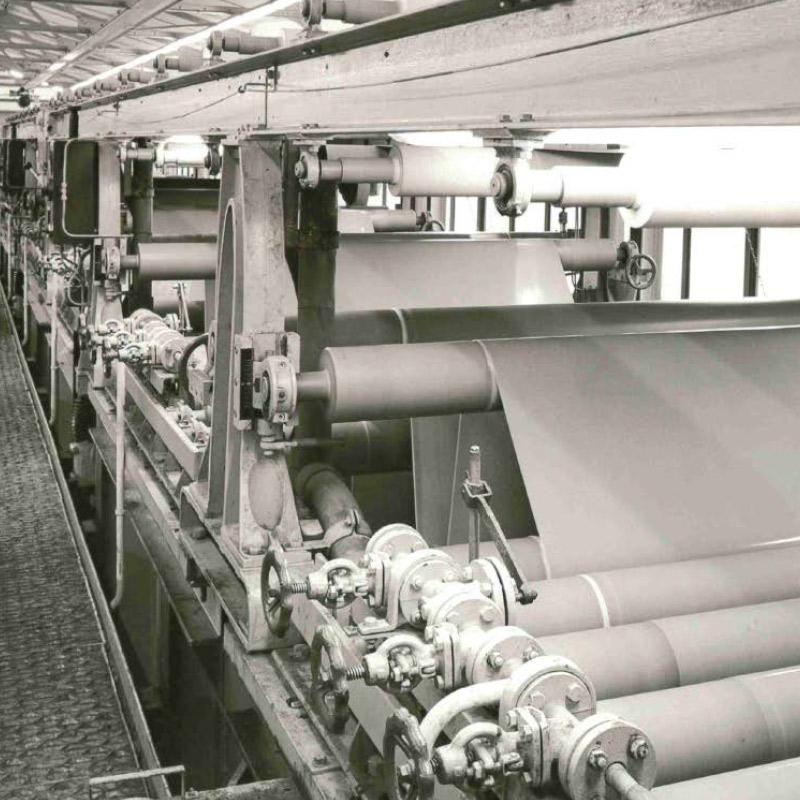 1970 – A completely new system based on the zinc chloride method is put into operation: demand in the abrasives sector increases throughout the globe.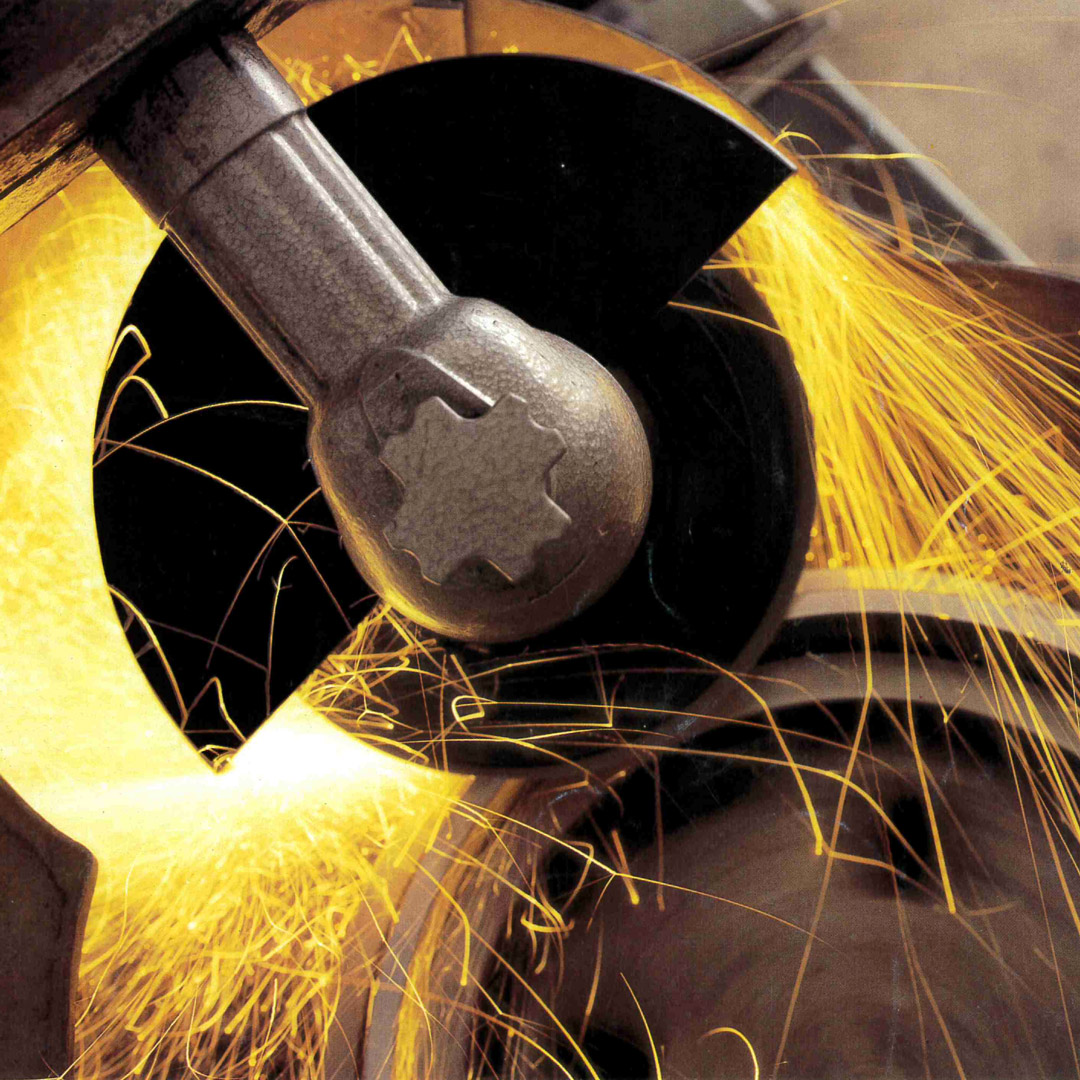 1999 – The capacity of DYNOS vulcanized fibre is increased by 20%, full capacity is achieved one year later in 2000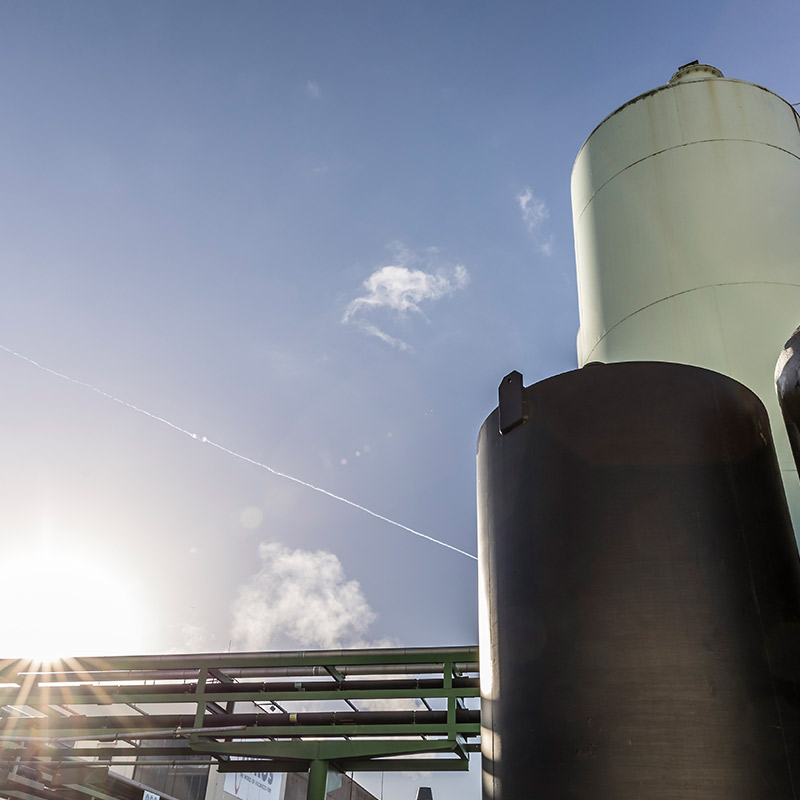 2005 – The Swiss M2Capital Group acquires DYNOS and establishes the current DYNOS GmbH

2020 – DYNOS GmbH acquires Cordier – and subsequently integrates the production of pulp and special paper into the DYNOS Group's operations. The closed-loop supply chain provides clear benefits to our customers: everything from a single source thanks to a vast depth of production